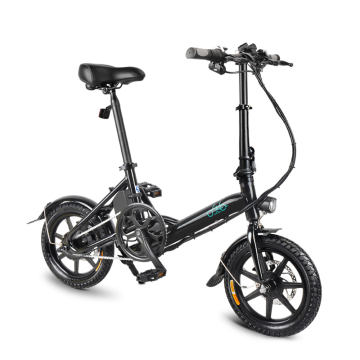 FIIDO D3 36V 7.8A 250W 14inch Electric Bike Moped Folding Bicycle E bike 25km/h Max 50KM Mileage - Black
$498.00
This is a really great little ebike. I received it quickly and unfolded it in about 30 minutes, and it was ready to use straight away. It takes just a few pedal strokes before you can use the thumb throttle, and then you can go whizzing along without pedalling at all if you like. I've been going at over the 15mph on the flat, and 13 even up hill. Being small it fits into my limited space, such as a trunk. A really great buy which will save me a lot of petrol as I can use it to go into town. So nice!
Actually, this is a cool looking bike! It was quick and easy to assemble using the included tools. It seems well built, with very heavy brazing at the joints. It's nice and light, and rides easily. I like the fact that it has folding pedals, making it easy to fit into compact spaces. The braking seems really effective, using a rear coaster brake. The center of gravity is slightly toward the back of the bike, so at quick stops or when braking going downhill you won't be thrown forward. The seat post is easily adjustable, and goes high enough that it fits my 6'2" son. The gearing seems to be good, you can get a decent speed for level ground to low hills. The pedals are slightly forward of the seat rather than directly below, but you will get used to this easily. And there are fenders, so it's no problem to ride in wet weather on muddy roads. It's a great, all-around utilitarian bike.
This well exceedes my expectations. Where I live is very hilly and sitting down with light pedaling and throttle on full whack takes care of them no problem. Battery life is great too, get 2 journeys to and from work before needing a charge. It is light-weight so its convenient to carry around.